Author Archive: Carolyn Ball
Carolyn Ball, Ph.D., is The Executive Director of the VRS Interpreting Institute (VRSII) in Salt Lake City, Utah. Before this position, Carolyn was as an Associate Professor of Interpreting and Director of the American Sign Language & Interpreting Program at William Woods University in Fulton, MO. Additionally, she was the Coordinator of the Interpreter Training Program at Salt Lake Community College.
She received her B.S., and her M.A. in from Brigham Young University—then earned her Ph.D. in 2007 in Adult Education from Capella University. Carolyn's research passion is the history of interpreter educators. She has served on the Conference of Interpreters Board for twelve years. Carolyn is the proud aunt of 17 nieces and nephews and spends her free time riding her Trek Madone road bike.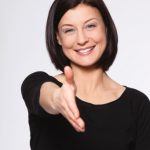 If the work we do as sign language interpreters requires that we convey messages not only with words but also with our demeanor, shouldn't we consider what our demeanor conveys?  I propose that demeanor is the face of civility and the effective use of civil behavior can enhance all aspects of the sign language interpreting [...]