About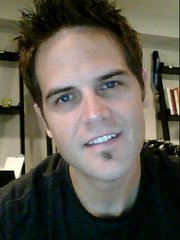 Welcome to StreetLeverage.com
StreetLeverage is a community blog that offers sign language interpreters context and insight on industry related topics and events.
My name is Brandon Arthur.
Yes, I probably should fill the page with a bunch of "I" statements to demonstrate my worthiness of putting this site into the world, but I'll save you the eye roll and me the hot air.  Let's just say, I have been lucky.  I have had the good fortune of working with—and alongside—numerous working interpreters, industry leaders and educators, and business owners.  These travels have given me the opportunity to see and experience the complexities of the sign language interpreting field from various points of view.  The desire to share these insights and the insights others have gained through their experience is the impetus for this site.
(If the "I" statements are important to you, you can find a highlight reel at the end of this page.)
Why StreetLeverage?
Simple, context is king.  In a complex and rapidly changing industry, possessing sufficient context is essential in order to make informed decisions.  With the increasing noise heard throughout the industry, it is the aim of StreetLeverage.com to amplify the perspective of the sign language interpreter by offering insight and context on industry related topics and events.
If you would like more information on the aim of StreetLeverage.com contact me via the contact page.
Subscribe to StreetLeverage
Stay in touch with Streetleverage.com by signing up for regular updates.  Its fast and easy.  Simply enter your name and email in the Subscribe Here (upper right-hand side of the site) and hit the "Sign Me Up!" button.
Be sure to check out the free workshop being offered as a thank you for your sign-up.
Also connect on Facebook and Twitter if you are active on those networks.
"I" Statements
I…
was born to a father that is Deaf and a mother that is a sign language interpreter.
am a nationally certified sign language interpreter.
have worked as both a freelance and staff interpreter.
held a Director of Business Development/Marketing position for a small interpreting agency.
love, love, love being a father.
founded Visual Language Interpreting (VLI) in 1999 and ran it for nearly a decade.
along with my partners, sold VLI to Purple Communications in 2008.
currently work for Purple as a Regional Director of Operations.
served on an RID affiliate chapter board (PCRID).
served on two National RID conference committees as an interpreter coordinator.
co-chaired an RID affiliate chapter conference committee.
have coordinated interpreters for numerous large events (RID, CIT, DeafWay II, NAD, NTC)
have written articles that were featured in the RID Views.
graduated from George Mason University with a BS in Psychology and a minor in Business.
love more than life itself, my life partner – Tara, three year old daughter, and one year old son.
am grateful to the universe for my lot in life.